Ableton Live is one of the best digital audio workstations (DAW) on the market. Since its introduction in 2001, Ableton Live has been particularly popular with users for its intuitive interface and workflow. Especially club music producers appreciate the versatility and flexibility of the DAW when it comes to quickly adjust the speed and pitch of loops and samples. The intuitive user interface allows users to adjust their productions easily and clearly on a laptop. This is another reason why Ableton Live is so popular with DJs. Ableton Live comes with a wide range of professional samplers, synthesizers and effects. In addition, two types of plug-ins can be integrated into Ableton Live: Virtual Studio Technology 2 (VST 2) in 32-bit and 64-bit formats, and Audio Unit (AU) in 32-bit and 64-bit formats.
To further improve your workflow and get the best possible quality out of your productions, we recommend using additional plugins within Ableton Live. These are generally synthesizers and effects. With so many plug-ins available, it's hard to know which ones will take you further, so we've put together an overview to help you customize Ableton Live to best suit your needs. We've taken into account how widespread the plug-ins are and how many other producers use them professionally, as well as the strengths and weaknesses of the plug-ins. We are sure that the following overview will help you get to know more plugins for Ableton Live and expand your DAW so that your productions will benefit from them.
1. Sylenth1
Sylenth1 is one of the most frequently used VST synthesizers and has established itself as an absolute must-have in every studio, for professionals as well as for beginners. The reason for this is, on the one hand, the user-friendly and clear interface and on the other hand the extremely good sound. Due to its wide distribution, there is a large community on the internet resulting in a wide range of free presets for Sylenth1. The look of the synth can be customized with free skins.
Sylenth1 is available for Windows and Mac. The virtual analog synthesizer offers four oscillators with eight different waveforms each. Additionally, there are two LFOs with eleven different waveforms each, three different filter types, and an effects section with seven master effects.
Pros:
very good sound and a large collection of usable presets
simple structure and intuitive interface
versatile and flexible usage
moderate CPU usage

Link: Sylenth1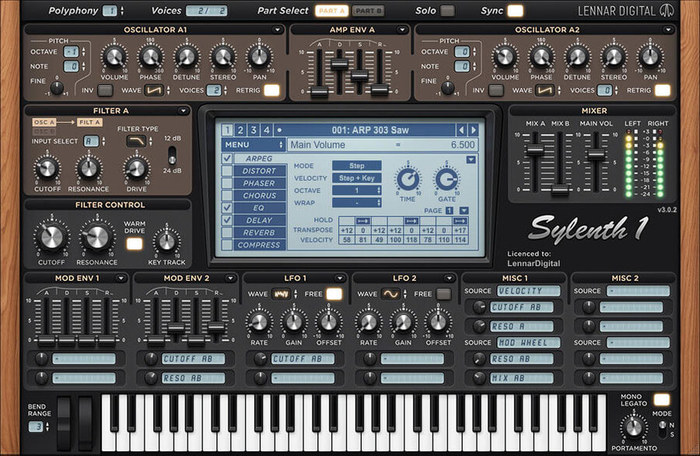 2. Serum
Serum is a virtual wavetable synthesizer that can be heard in many current productions because of its easy handling and its top-notch sound. The plugin has 450 contemporary presets and 140 wavetables and supports the interfaces VST-, AU- (both in 64-bit) and AAX.
No matter if basses, leads or pads, the sounds are rich, powerful and wide and leave nothing to be desired due to the wide range of options for oscillators and filters. Accordingly, Serum can be used for any style of music, from Dubstep to EDM or House.
Pros:
wide range of wavetables and top-notch sound
easy to use interface
flexible use for different styles

Link: Serum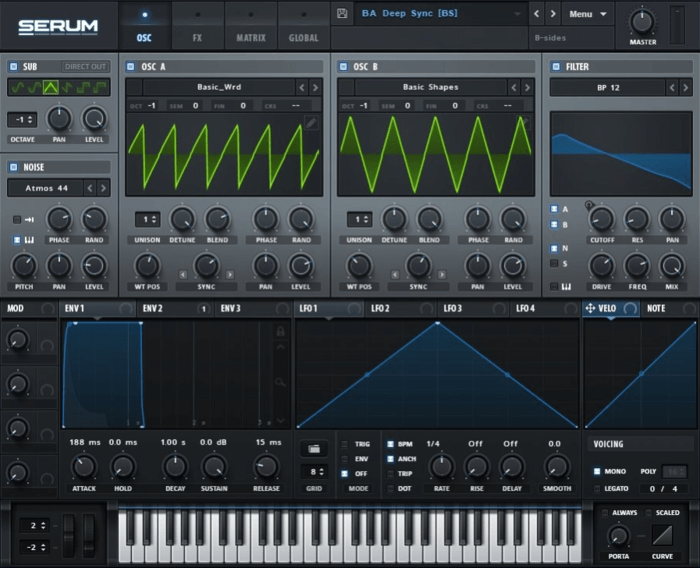 3. Omnisphere 2
Omnisphere 2 is based on a large number of sampled synthesizers which can be customized using the Omnisphere 2 Engine and 58 effects. With 12,000 presets and a 64GB sample library, the synth leaves nothing to be desired when it comes to quickly choose the right sound.
The focus of Omnisphere 2 is not on simply sampled acoustic instruments but on material that is suitable for creating every conceivable synthesizer sound. In addition to this incredibly large sample base, Omnisphere 2 features a comprehensive synthesizer engine with 500 different DSP waveforms. Whether wavetables, granular, FM ... numerous filters, ring modulation, the bandwidth is amazing. In addition, there are countless modulation options or features like Unison Drift, which emulates the slight pitch fluctuations of an analog synthesizer.
All in all, the Omnisphere 2 is such an extensive flagship that you don't really need another synthesizer anymore.
Pros:
incredible 64GB sample library with 12,000 presets
extensive modulation capabilities
independent synthesizer engine with own waveforms

Link: Omnisphere 2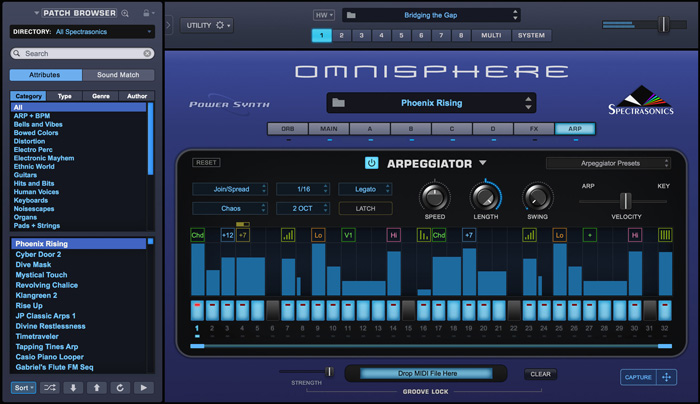 4. Massive
The Massive from Native Instruments is an all-round synth with extensive filter and modulation capabilities. It is based on wavetable technology and has several oscillators, filters and effects as well as an extensive system for modulating multiple parameters. This is the strength of the Massive: It allows you to create extensive roundings that are not possible with most other synthesizers. In addition, the Massive has a very good sound.
Besides many possible applications, the Massive is especially interesting for users who want to create individual and complex effect sounds.
Pros:
powerful sound
large number of filter types and modulation capabilities
sophisticated user and routing interface

Link: Massive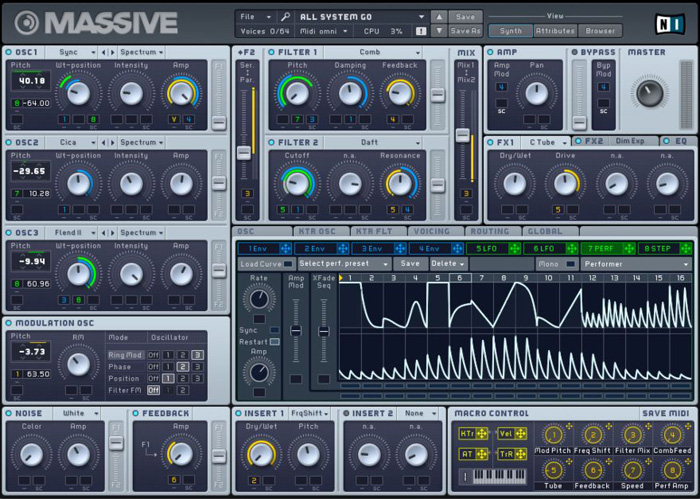 5. Nexus
Nexus is a sample player with synthesizer functions, popular because of its excellent programmed library with a large number of presets, especially in the dance and trance genre. The extensive library can be expanded with additional expansion packs that cover different styles from orchestral to hip-hop. A preset of the Nexus consists of up to four layers, each of which can use a multisample or one of eight classic waveforms as an oscillator. Various filter types are available for sound manipulation, as well as envelopes for filter and volume.
Nexus also has a well-equipped arpeggiator, a trance gate and very good sounding effects. It is a good way to achieve perfect results in the studio very quickly and the sounds of Nexus can be heard in a number of international hit productions.
Pros:
large and sophisticatedly programmed library
very good sounding contemporary sounds
expandable through expansion packs

Link: Nexus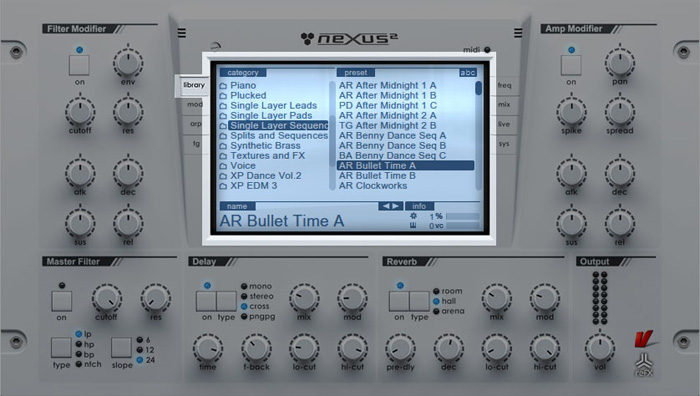 6. Kickstart
Nicky Romero Kickstart is a widely used and intuitive sidechain compression plugin that allows you to quickly create high quality sidechaining in any genre. The Ableton Live plugin stands out with its graphical representation and the easy to use user interface, where the exemplary choices can be adapted to your needs in a short time.
And that's exactly what Kickstart is all about: instead of exhaustingly adjusting all possible parameters of any compressor, you just set the desired waveform and the amount of ducking in the mix, and you're done. Kickstart is therefore ideal for all musical styles in which the bass drum is of great importance and its place in the mix has to be ensured.
Pros:
easy to use interface
flexible use for different styles
can be easily triggered and synced
compatible with any major DAW

Link: Kickstart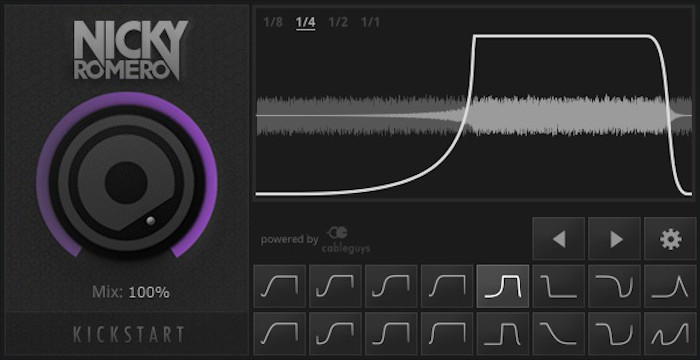 7. Spire
Reveal Sound Spire is a synthesizer that is highly appreciated by many top producers and sound designers as well as ambitious hobby producers.
One reason for this is its great sound and the extensive control possibilities of all relevant parameters. When creating a sound, you have four oscillators at your disposal, which you can add numerous good sounding effects to, before you can prepare them optimally for your overall mix in the integrated mixing and mastering section.
Another reason is the clearly arranged interface, quickly accessible for beginners and professionals alike. Widely used in electronic music, the plugin's versatility makes it suitable for practically any style of music.
Pros:
contains excellent presets for the EDM area
combines easy operation with great sound
constantly growing fan community that creates new soundsets

Link: Spire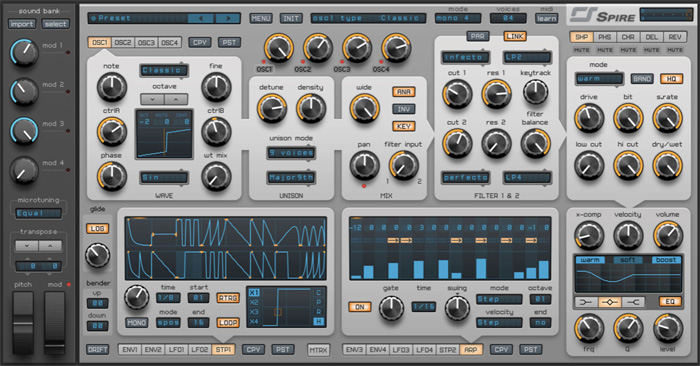 8. Avenger
Vengeance Avenger is one of the most versatile synthesizer plugins available. A total of 8 oscillators offer almost unlimited possibilities to shape the sound, whereby all common waveforms can be selected, oscillation shapes can be freely drawn and your own samples can be layered.
Besides numerous effects, dedicated filter modules, arpreggiators and endless modulation possibilities, Avenger also offers a drum sequencing function for up to 16 bars. Avenger combines the classic wavetable synthesizer with the sampler in one plugin and will satisfy even the highest demands in sound creation.
Pros:
extensive sound shaping capabilities
moderate CPU usage
expandable through expansion packs

Link: Avenger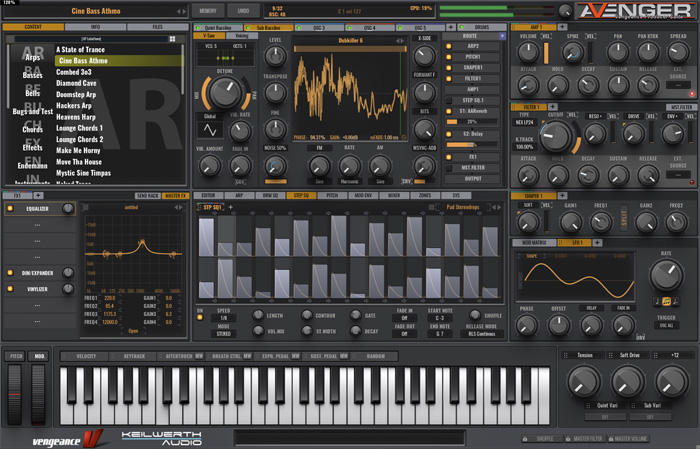 9. Diva
Diva (Dinosaur Impersonating Virtual Analogue) is a synthesizer plugin that features accurate digital replicas of legendary analog synthesizer circuits. The oscillators, envelopes and filters of the Minimoog, Juno-60, Jupiter-8 and MS20 have been recreated with great attention to detail for a vintage feel in almost any DAW.
The excellent combinability of the individual synthesizer modules is especially noteworthy. For example, hybrids of Moog oscillators and Oberheim filters can be created, offering unimagined possibilities to those familiar with their analog counterparts.
Diva manages to deliver the "real", warm sound of some of the most famous analog synthesizers without expensive outboard equipment, and still remains highly latency-free, assuming a reasonably fast CPU.
Pros:
implementation of modular building blocks
outstanding sound
self-explanatory interface

Link: Diva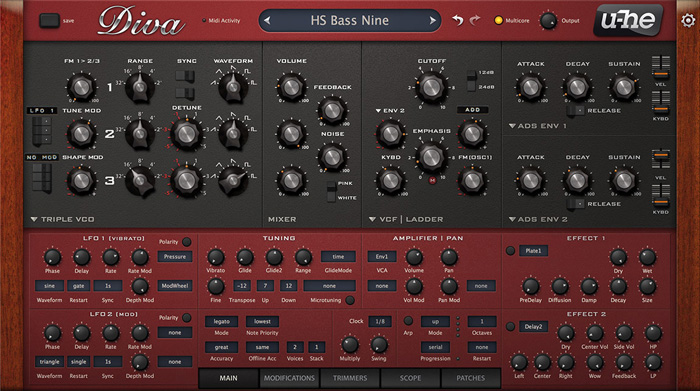 10. Kontakt
Native Instruments Kontakt is a software sampler that can be used standalone, but also integrates great as a plugin to existing DAW systems. Since its release, the sampler has become the industry standard in professional music production due to its great sound and features, as well as its intuitive usability.
In addition to the more than 40GB of state-of-the-art samples included with the sampler, Native Instruments also releases great compatible expansions from time to time. Of course, you can also load your own audio files into the sampler, where they can be quickly arranged to create great custom libraries.
The plugin is rounded off by a well-functioning effects section, in which the sounds can be further tweaked. Regardless of the music style, this plugin is a first choice when it comes to professional sampling.
Pros:
big library with top-notch sounds
expandable through expansion packs
easy to use

Link: Kontakt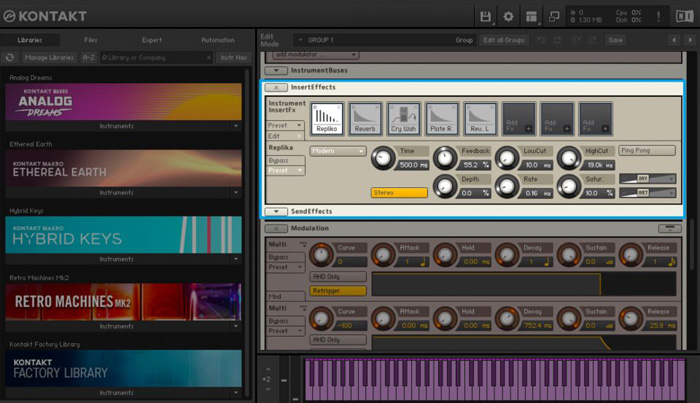 11. Guitar Rig
Guitar Rig makes it possible to virtually eliminate the need for classic analog equipment and hours of manual adjustments when recording and mixing electric guitars. In the modular and highly organized interface, detailed emulations of famous amp tops from Marshall, Mesa Boogie, Peavey, Fender, Orange and others can be combined with the most popular speaker cabinets. Once you have created your favorite stack, great effect chains can be arranged from countless well-known stompboxes and 19" gear. The plugin is completed by a clever control room, where the setup is recorded by great simulated microphone classics, where phase, position and room can be adjusted.
Of course, guitar lovers enjoy experimenting with their analog treasures, but Native Instruments Guitar Rig offers ambitious producers the ability to quickly create usable and reproducible guitar setups that require nothing more than a jack cable and a single input in the interface.
Pros:
contains fine emulations of the most famous guitar equipment
easy to work with
can also be used standalone

Link: Guitar Rig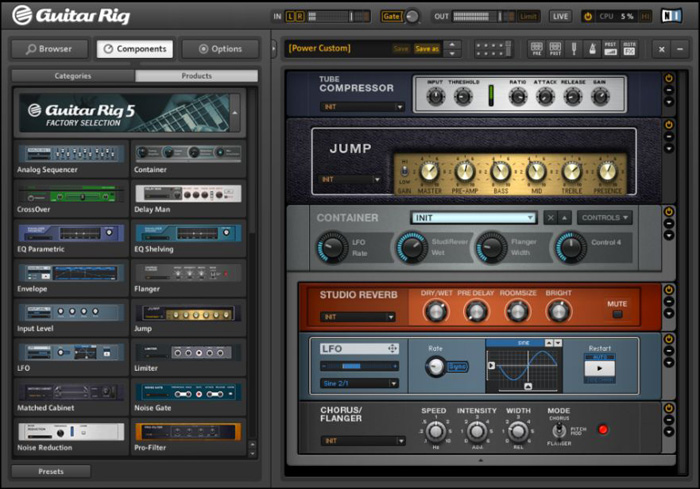 12. Auto-Tune
Antares Auto-Tune is probably the best known plugin for manipulating the pitch of a track. It is the first choice of top producers from all musical genres when it comes to correcting the pitch of vocals and is used in countless hits. The editing with Antares Auto-Tune works both in real time and automatically, as well as allowing pitches to be edited manually offline.
On the one hand, the plugin can be used as a subtle, practically inaudible pitch correction, which is what it was originally intended for. On the other hand, the processing is intentionally exaggerated, for example in modern rap vocals and in many other areas of urban music, where it is often immediately recognizable as a stylistic effect.
Pros:
a wide range of uses
excellent processing quality
MIDI compatible

Link: Auto-Tune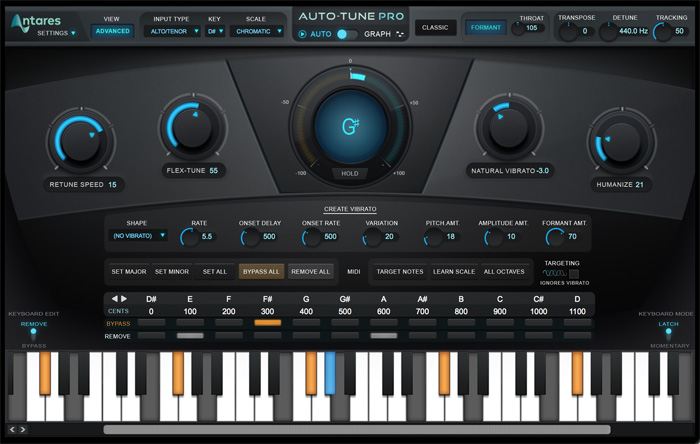 13. Sausage Fattener
Sausage Fattener of the producer duo Dada Life has developed over the years from an insider tip to an established name in the plugin market. The plugin can add saturation and distortion to individual tracks, making them more assertive and giving them a certain dirty character. It is also an excellent small but effective mastering tool on the master channel to affect volume and loudness.
With only three controls for Gain, Fattness, and Color, Sausage Fattener's interface is very simple. The Gain knob is used to quickly set the input level using the light next to it, while the other two knobs are dedicated to the actual processing of the sound. You have a small but powerful tool here, with which you can spice up single sounds or whole tracks. The plugin manages practically all nuances from discreet thickening to total distortion and thereby always sounds great.
Pros:
extremely simple operation
versatile in use
excellent sound

Link: Sausage Fattener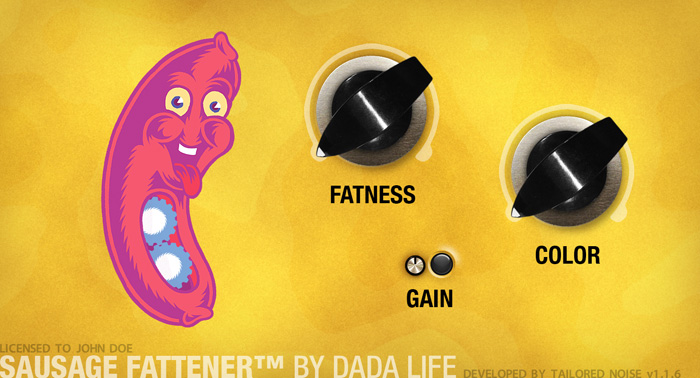 14. Valhalla VintageVerb
If you are looking for a flexible and at the same time inexpensive reverb plugin, there is no way around the Valhalla VintageVerb. Under its easy-to-read and intuitive user interface, the plugin contains incredible 18 reverb algorithms, many of them closely modeled on the digital outboard devices from EMT and Lexicon. The reverb can be adjusted quickly and suitably in all relevant parameters to the user's wishes. Whether you just want to add some depth to the signal or create huge reverb tails, the plugin always manages to deliver a clear, characteristic sound.
Valhalla VintageVerb is a reverb plugin that brings the much desired vintage sounds of the 70's and 80's into your studio in a detailed and authentic way without having to invest huge amounts of money in hardware equipment.
Pros:
wide range of sounds from classic to exotic reverb
intuitive to use
great value for money

Link: Valhalla VintageVerb